This web site is dedicated to to Melissa and Emily Schmeisser, who died tragically in an automobile accident on May 15, 2005. Melissa and Emily were so full of life, smiles and laughter that in inspired everybody around them. Whether they were known as sisters, cousins, nieces, friends or volunteers, these two girls have always been, and will always be, children of God. While all of us will miss you both terribly, you will live in our hearts and souls forever. We love you.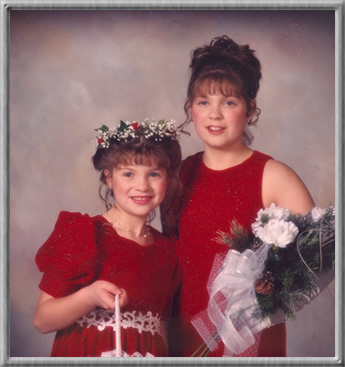 Don't grieve for me, for now I'm free.
I'm following the path God has laid you see.
I took His hand when I heard Him call.
I turned my back and left it all.
I could not stay another day,
To laugh, to love, to work, or play.
Tasks left undone must stay that way.
I found that peace at the close of the day.
If my parting has left a void,
Then fill it with remembered joys.
A friendship shared, a laugh, a kiss,
Oh yes, these things I too will miss.
Be not burdened with times of sorrow.
I wish you the sunshine of tomorrow.
My life's been full, I savored much.
Good friends, good times, a loved one's touch.
Perhaps my time seemed all too brief.
Don't lengthen it now with undue grief.
Lift up your hearts and peace in thee.
God wanted me now; He set me free!